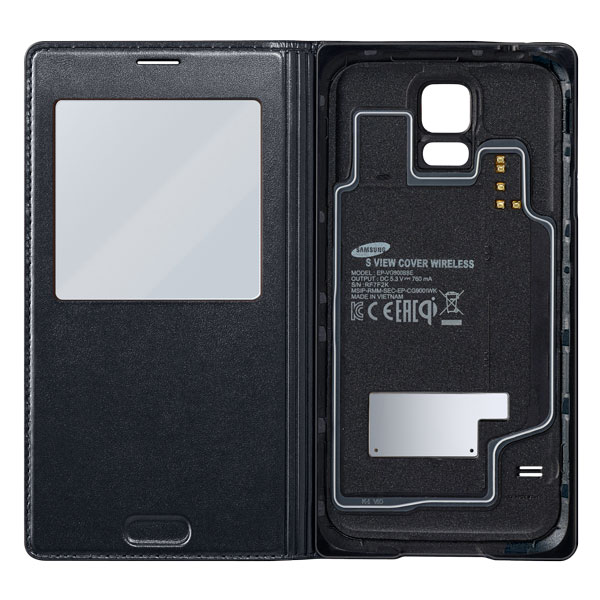 Samsung's next big thing, the Galaxy S5 which was announced at this year's Mobile World Congress is all set to retail all across the world, and it seems that some retailer have already started to sell the handset. However, it seems that the Samsung Galaxy S5 accessories such as covers are also expected to retail along with the handset as we have already get our eyes on some of the official covers in past. Earlier last month, some retailer started taking pre-orders for the Galaxy S5 accessories and not only that, the accessories were attached with a hefty price tags.
Well, Samsung has now officially started to take pre-orders of wireless charging covers for the Samsung Galaxy S5 on their website. Samsung has announced two types of covers on their website: a back cover and a S-View flip cover. Both the covers are available in two colors black and white and features a Qi charging plates that allow wireless charging of your handset i.e without connecting/disconnecting the cable.
However, one is a usual back cover, while the other i.e S-View Flip cover comes with S View window that allows you to check status, missed notifications or one can say a shortcut display of the S-View Flip cover. As far as pricing is concerned, the back cover comes with a price tag of $29.99 price tag, while the S-View Flip cover comes with a price tag of $69.99.
Samsung has listed the covers as coming soon on their website, but if users want to purchase the covers, then they can pre-order now. Check out the link for the covers: Samsung Galaxy S5 Back cover (white) and (black), Samsung Galaxy S5 S-View Flip cover (white) and (black). Stay tuned for more updates.

He is a passionate and enthusiast blogger and likes to discuss news trending in Technology world

Latest posts by Aseem Girkar (see all)