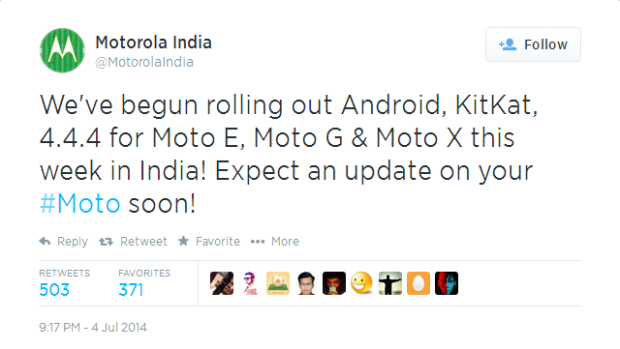 If you are a Moto E, Moto G or a Moto X user and you reside in India, then there's a good news for you as your Motorola handset is rolling out the latest Android 4.4.4 KitKat update. Motorola India today announced on their official Twitter account that they have begun rolling out the Android 4.4.4 KitKat update for Moto E, Moto G and Moto X users in India.
Though Android 4.4.4 KitKat update doesn't bring new features for your handset, but these update focuses on improvement of your handset and some bug fixes, especially the OpenSSL bug fix. However, Google has recently announced the Android 5.0 L, but it seems that Android 5.0 L won't be arriving soon on any handset, unless Google launches a new Nexus device.
Well, Indian users who have not yet received the Android 4.4.4 KitKat update for the above mentioned Motorola handsets, they should wait for OTA (Over the Air) update to arrive in coming weeks or you can manually check the update by following steps: Settings > About phone > System updates and then, check if there is any update available or not. Stay tuned for more updates.

He is a passionate and enthusiast blogger and likes to discuss news trending in Technology world

Latest posts by Aseem Girkar (see all)