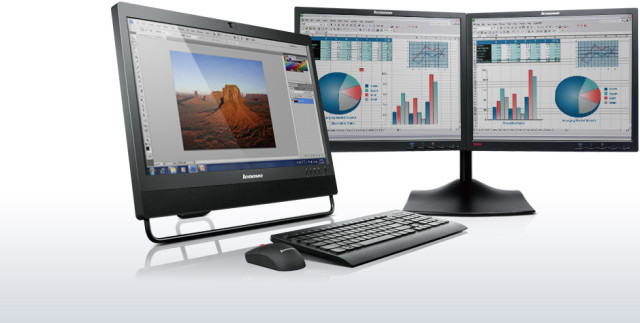 With the technologies changing and advancing at a faster rate, we have seen a huge change in the field of computers in past couple of years. Computers have become the part of everyone's life some or the other way – whether it's about booking tickets, processing payments, video editing and many more. It is the combination of both hardware and software that makes the computer look cool, which includes the software that not only improve the performance but also the efficiency inside the system and the hardware that enhances the system both from outer looks and inner processing. Well, we are here to discuss on some of the hardware of computers – Monitors & Desktop.
If you are going for selection of Monitors and Desktops, you need to consider various factors such as size, resolution, backlighting, aspect ratio, multiple screens or single screens, CPU performance and also the most important factor i.e. Brand which is the symbol of trust for every consumers. However, there are many Branded Monitors and Desktops available in India, from the popular tech companies like Apple, Samsung, LG, Acer, Dell, HP, Lenovo, Asus and many more. When you go for purchase of a computer, you purchase the whole Desktop and you might not even pay too much attention to the monitor that comes along with it. Users even do not think to upgrade their Desktops and will mostly stick to the one which they are already using. Here are the lists of the top brands which can offer the best of experience with Monitors and Desktops to users not just in India, but all across the globe.
• Apple
When it comes about the talk of top brands in technology, you cannot miss Apple, the most popular brand all across the globe. Apple is always at its best when it comes to design, performance and trust. Apple offers various options in Monitors and Desktops which includes Apple iMac, Apple Mac Pro, Apple Mac Mini and many more.
• Hewlett Packard (HP)
Specialized in developing and manufacturing computing, Hewlett Packard (HP) is one of the best brands when it comes to Monitors and Desktops. Some of the well known Desktops include the HP All-in-One and HP Pro.
• Dell

Well, Dell is one of the largest technological corporations all across the globe and is one of the leading manufacturers when it comes to computing devices. Dell Inspiron, Dell XPS are the popular ones.
• Lenovo

Lenovo, the Chinese tech giant is the world's largest personal computer vendors by unit sales and is among the brands that boost the market of Monitors and Desktops. Some of the popular Desktops includes Lenovo ThinkCentre lineup.
• Acer

Acer is the popular Taiwanese tech giant especially in the production of personal computing devices. Some of the popular Acer desktop series includes Acer Aspire Desktops, Acer Aspire Predators and Acer Vetiron series

He is a passionate and enthusiast blogger and likes to discuss news trending in Technology world

Latest posts by Aseem Girkar (see all)